ABOUT RELENTLESS UNIVERSITY
What is Relentless University?
The founder of Relentless University, Richie Contartesi, has spent the last 5+ years speaking and working with corporations like IBM, NRG Energy, Comcast, DataWatch and Universities like Ole Miss, Penn State, Uconn, and Clemson. He has also spoken at over 467 schools. His message was delivered and adopted by hundreds of thousands, but Richie found that it wasn't enough. People in the audience were constantly asking for more after every presentation and he wanted to find a way to help people on a deeper level. 
Relentless University exists to empower our community to overcome adversity, mental health challenges, negative people, & barriers holding them back from becoming the best version of themselves inside and out. Picture and imagine, a community of people who have come together to hold each other accountable, help one another overcome adversity, and achieve what they want all while having FUN. 
Relentless University is full of courses, content, live webinars, and more to go deeper than just a keynote or workshop. Richie uses his experience from earning a Full D1 football scholarship in the SEC at Ole Miss at a staggering 5'7″ and 150 pounds soaking wet combined with writing a #1 best seller, building the only 24/7 functional fitness facility in Las Vegas, building a real estate investment company, and much more.
You will find options for group support as well as 1-on-1 support. Bottom line is Richie's mission is to help further that just a keynote or workshop. 
Our coaches  and leaders are highly trained and also live to the standards we help our amazing
members and community live too.
Former Division 1 college football walk-on who went on to earn a full scholarship in the SEC at Ole Miss standing a staggering 5'7 and 150 pounds. Richie travels internationally and speaks with hundreds of thousands of people a year teaching them how to be relentless and inspiring them to be the best version of themselves mentally and physically. Richie founded Relentless Warrior™ Fit to grow a community that can help each other overcome adversity, negative people, mental health, and physical challenges. He is the #1 best selling author of "In Spite of the Odds" and has been seen in the new movie "Rudy: The Walk-on".
Fittest Woman in Nevada in 2015 and 2016. Erica will help you overcome fear and obstacles to succeed in the gym and in life. Erica's coaching style is well-rounded, and adaptable to all types of clients and athletes. Her philosophy on health and wellness revolves around not just making you look your best, but more importantly, FEEL your best. Longevity and happiness both inside and outside of the gym is what motivates her to help you become the best version of yourself. She started out as a gymnast and began her functional fitness journey 7 years ago. She has coached and trained private clients for over 6 years in Las Vegas
Lucas is a former collegiate athlete that became aware of his passion for fitness at very young age in Houston, Texas. He has worked with a wide spectrum of individuals ranging from professional athletes to people simply looking to improve their overall health and wellness in a fun environment. He focuses learning about what others goals and challenges are and facilitating the achievement of what was previously thought to be impossible. A seasoned trainer in the Vegas area, Lucas has been coaching classes and training individuals for over 5 years. He is a staunch believer in functional strength development and safety above all else.
ANISSA GODINA
Client Success Team Lead
Anissa Godina is originally from Washington state where she was a former junior college volleyball player, and head Varsity volleyball coach at her former high school. She was a 3 sport athlete with a passion for being active and competition that has brought her to enjoy lifting and physical fitness. She believes in the importance of self confidence and has gained over 30 pounds on her fitness journey. She moved from her small hometown of Toppenish, Washington to Las Vegas looking for an opportunity and found Relentless Warrior Fitness where she can be a part of a team that has the same health ideals she does.
Jose Carrillo started his Fitness journey back in 2009. He was overweight and struggling to find a way to lose weight. After years of struggling, he found Functional Fitness and Zumba. In just under two years, he lost 75 pounds and his life was changed forever. He created new habits, mental rituals, and a physical fitness routine. Jose wanted to give back to others struggling and began teaching  Zumba in 2009. You can see and feel his passion during his classes. They are high energy and focus on your physical and mental fitness. Jose's inspiration and drive is being able to share and guide people to a healthy, fit, and strong lifestyle.
Zach is the team lead for the fitness & nutrition accountability program with Relentless University. He works with our coaches to allow them to bring out the best in both there clients and themselves. He believes in practicing what you preach and being relentless in doing so by holding both my coaches and myself accountable while always pushing to improve.

I have opened and owned a number of small brick and mortar businesses along with online ventures in the fitness industry. My experiences in both the wins and especially the failures have brought me to where I am now with the knowledge and experience to know how to improve and push my peers/clients to do the same.

I am a 13 year Personal Trainer, with a number of certifications from the Poliquin Group, Precision Nutrition, and various others. My main education has been from the many mentors I have had over the years in various disciplines from, business, mental health, nutrition, to coaching someone to success no matter their vision. With a goal now to pass that on the as many other as I can to create a culture of being relentless.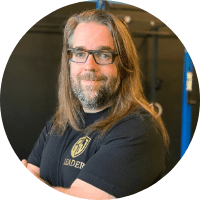 BRYAN HARRIS
Operarting Manager
Bryan Harris has spent twenty years in media and marketing, and has managed marketing for numerous large health organizations including EverydayHealth.com, Pfizer.com, and WhatToExpect.com. He has also advised start-up CEOs in Cornell Tech's MBA program on growing revenue from $0 to $5MM. He holds training certificates in powerlifting, kettlebell, L1, and functional fitness. His coaching style is technical, but he is funny in his own right. In his spare time, he enjoys a variety of physical activities. He's a former rock climber and alpine mountaineer, and a current member of the United States Powerlifting Association.
PATRICIA CASTRO
Front Desk, Social, & Events Manager
Patricia Castro studied events & marketing at the University of Las Vegas, Nevada. While attending college in 2012 she started weight training 3-5 days a week and was amazed at the results. She fell in love with training and helped her closest friends achieve their goals. She soon realized that she could make a career out of her passion for fitness. Since then she decided to get certified and has helped, inspired, and motivated countless clients, friends, and family. Her 7 years experience has lead her to express her passion of fitness through Relentless Warrior Fitness in creating empowering events and an amazing experience for all our members.
RICK DONASALES
Client Success Team
Rick decided to take the journey of personal development and improve himself a few years ago. He began his journey when he joined the Toastmasters club to improve his public speaking skills. There, he developed the competence to speak in front of a crowd, command the stage, and communicate better with others. He shortly therafter became the president and quickly realized his talent and ability to lead. In this position, he learned how to connect to his members, listen to their needs, and actually help them find ways to solve their own problems by coaching them. He enjoys coaching others to bring the best out of themselves and sometimes get out of their own way. Rick is also focused strongly on his health & fitness and has made huge strides since becoming a team member of Relentless University.
Who is Richie Contartesi?
On August 21st, 2009, at an intimidating 5'7″ and a hefty 150 pounds, Richie Contartesi achieved his first major life goal by earning a full Division-1 football scholarship to the University of Mississippi more commonly known as "Ole Miss".
During his formative years, adversity hit home and rocked the foundation of his life, his parent's divorce. The impact of the divorce had a devastating effect on Richie, resulting in failing 5th grade, acting out in school, depression, and even contemplating suicide.
At rock bottom and with no hope, Richie decided to search the internet and found the academic requirements for his childhood dream, playing college football. That night changed his life. With no knowledge of goals and planning, he printed out those requirements, wrote down a goal, expressed a vision, and developed a plan to achieve it.
Richie was never the smartest, the biggest, nor the most talented. At 12 years old, he was fortunate to have a caring mentor enter his life. A mentor who saw something special and helped Richie recognize and develop his potential during middle and high school. Unfortunately, Richie broke his leg during his senior year of high school and coupled with his size, he had no chance of playing Division-1 college football.
Richie's first attempt to play college football, at a Division 2 football program, ended after a year and he was cut from the team. Richie reached out to his old mentor and found out he had just received a coaching internship for the Ole Miss Football Team. The strong mentor relationship and trust built over the years, helped Richie secure one sixty minute tryout and a"real shot" to make the Ole Miss football team as a "walk-on". An opportunity of playing with the most gifted and talented football players in the country.
Richie initially didn't make the team, but earned an extended one week tryout to prove he could take the hits and made it as a "walk-on" football player. Despite grinding through three years of grueling physical practices, failure, rejection, and ridicule, his relentless resilience earned him the right to be a starter, a respected teammate, and "In Spite of the Odds" became a Division-1 football scholarship athlete in the powerhouse South Eastern Conference (The SEC). He also went on to earn the SEC Scholar Athlete award.
After his graduation from Ole Miss, Richie played professional Arena football, authored his #1 bestseller, "In Spite of the Odds", was featured in the movie "Rudy Ruettiger: The Walk On", built a successful speaking and professional development business, started a real estate investment company, and opened the only 24/7 functional fitness facility in Las Vegas.